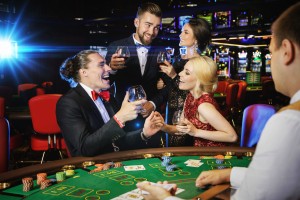 Brennan Events Casino nights really are premier. They are an amazing addition to any event. We cover everything from Birthdays & Weddings, to Fundraisers, Christmas Parties and Corporate events. There is so much included on the night!We have lots of options you can add to your Casino to cusomise it even more, and add more fun and surprises for your guests!
Our Casino packages typically last about 2 hours and can be followed by DJ or Band. The atmosphere is electric and we play lots of music throughout the evening to create a fun party atmosphere. You can check out our Casino Reviews below for some insight.
Fun Casino Night

These events are energising, there's lots of party games, on and off the tables, with music and dancing! We can create a format right for you. A popular option is to have the top players from each table put through to play in the Big Casino Finale, where they compete to be the overall winners!
Each event is customised to fit you, and typically what you can expect in your package is:
      Full Size Roulette Tables and Wheels
      Full Size Card Tables with options of:

Blackjack, 3 Card Poker, Caribbean Stud Poker, Bacarrat (aka Punto Banco, from 007 films)

      Fun Interactive Croupiers at each table
      Casino Chips, Cards, Dice and Accessories
      Hostess for Event
      Room Decor
      Professional MC for Event
      Professional PA
      Delivery & Room Setup
      Music During Casino
      Props & Games
      Poster/Invitation/Ticket Artwork for your event
      Customised Casino Fun cheques with Company/Committee Logo & Branding
Sample Running Order
       6.30 Casino and PA set up
       8.30 Guests arrive for drinks reception
       9.00 Casino Starts – MC Greets and warms up the crowd & the fun begins!
       10.50 Chips cashed & winners brought to finale table
       11.00 Casino finishes & DJ begins
Other Options 
What's Involved:
Our Casinos really are first class. Noel and our other MCs are professional and very experienced. We greet everyone at the start of the night and explain the rules, then we give everyone their equivalent of €10,000 of fun money in Chips to play on any of the tables, as they can move between them during the night.
Your MC & Hostess will work the room during the Casino ensuring everyone is enjoying themselves. We involve everyone and there will be games throughout the night.
We also up the ante during the evening reminding everyone that there's a winners table & prizes to compete for (if you chose to include them). And even the people not actively playing at the tables will be having fun as your MC plays games such as Human Craps and The Giant High Low Card Game with them as well as our newest addition – if you choose to include it – The Money Wheel.
Your post Casino DJ or Band will transition seamlessly and will keep everyone bopping and having a great time right to the end of the night. It will truly be an occasion remembered for its excitement and enjoyment.
Contact Nicola now to book your unforgettable Casino Night – tailored to your needs!
Average rating:
22 reviews
May 21, 2019
totalhealth Pharmacy Awards 2019
Company/Occasion:
totalhealth Pharmacy Awards 2019
Nicola, Noel and the team from Brennan Events did an amazing job for our Awards 2019. They are just so professional. The reaction from our guests was evident in the participation. The casino tables were packed from the beginning and the excitement was electric!! The play off was tense with anticipation and the prizes so welcome. DJ Noel continued the party till late. All in all a great experience one we will certainly be talking to Nicola about again.
Feb 5, 2019
Staff Party
Company/Occasion:
Advance Cleaners
" Nicola was fantastic from start to finish. Everything ran exactly to plan and the whole group had a great time. Topping the Casino Night will be very difficult at our next staff party"
Dec 13, 2018
Ornua Co-Operative Limited
Company/Occasion:
Christmas Party
We at Ornua want to say massive thank you to Nicola and all the staff at Brennan Events for the most fun packed evening the company has had in a long time, from start to finish it was brilliant. The staff made everyone feel inclusive whether playing the tables or observing. The DJ was a big hit and there were plenty of sore feet the next day.So thank once again for the wonderful evening.
Dec 6, 2018
Tesco xmas party
Company/Occasion:
Tesco Balbriggan
Thanks to Nicola and the team for a great night at our xmas party..everything was perfect from start to finish and everyone got involved..I would highly recommend Brennan Events for any occassion as its bound to be a great night..😁😁😁
Sep 18, 2018
Amazing Casino Night
Company/Occasion:
30th birthday
What to say about the casino night that can do it justice!!Nicola and her team were absolutely fantastic, from the initial consultation, right through to saying goodnight!Everything was tailored to match my needs. On the night I couldn't have asked for more, the only time people weren't up at the tables was when they were at the bar or had gambled away everything! In saying that, with the MC engaged with everyone sitting down, giving opportunities to win chips back, as well as playing smaller games! I can safely say that no person was made feel left out.I can't recommend the team at Brennan Events enough! Thanks guys for making my 30th a night to remember!!Wayne
Jul 3, 2018
KennCo Casino Night
Company/Occasion:
Company's 10 Year Anniversary
A big thanks to Brennan Events for putting on a Casino Night at our company party - it was great fun from start to finish! The croupier's did a great job at explaining the games to us novices, and the MC was great craic throughout the night. Couldn't recommend them more!
May 10, 2018
Xpert Hair Christmas Casino
Company/Occasion:
Christmas Party
We used Brennan Events for our Christmas party and we were more than delighted with the service they provided. We had a great evening. Nicola and her staff were brilliant they were exceptionally professional, very easy to deal with and nothing was too much trouble. Would recommend to anyone who is looking to add that extra flair to their party.
May 8, 2018
KPMG Casino Night
Company/Occasion:
KPMG Social Casino Night
Hi Nicola. Thanks again for the great night, it was well organised and everyone agreed it was by far the best work night out to date. It should also be noted that some of the employee who made those comments have 20 plus years of service with this firm so that's a lot of nights out to compare. Thanks again, Ciaran.
Jan 17, 2018
Wedding Casino
Service:
Casino Table Hire
Company/Occasion:
Wedding
Hi Nicola. Thanks so much for Saturday. Everyone had a blast with the table. We are delighted we got it for the wedding. Regards, Carol-Ann
Jan 17, 2018
Christmas Party
Service:
Casino & Instabooth
Company/Occasion:
Securitas
Hi Nicola,Thanks so much to you and all your team for an absolutely fantastic evening! Everybody is still raving about it! And the pictures from the photo booth are just brilliant! They have been widely circulated!Thanks again for everything, I will definitely be recommending you to all my friends and family.
Nov 29, 2017
Ladbrokes SAS Awards Casino
Company/Occasion:
Ladbrokes
I Just wanted to email to thank you and Noel for an absolutely great night last Wednesday. It far exceeded all our expectations. From the minute Noel took the mike everything went so smoothly and everyone had so much fun. And the Instabooth - everyone loved it and we really enjoyed looking at all the pictures.

We will be making this an annual event so will definitely be giving you a call for next time.
Sep 27, 2017
KBC Work party - absolutely brilliant!
Company/Occasion:
KBC Bank staff night
I contacted Nicola not long in advance of our date, and she was so responsive and detailed in the information she came to me with. I felt like the event was in total control from the word go. The night itself, we had Nicola ensuring everything was running smoothly, and Noel as the MC and DJ afterwards, and it was absolutely brilliant, Noel really engaged the crowd, it was brilliant fun. The team behind each Casino table were really friendly and professional and the whole night was a great success. Would highly recommend on a small or a large scale! Thanks again Nicola, Noel and co!
Aug 29, 2017
Staff Summer Party
Company/Occasion:
Rathwood Home & Garden
Hi, just wanted to say a massive thank you, to Nicola & all the staff at Brennan events, so easy to work with, & extremely helpful. Our staff are still talking about the great night, thanks again.
Aug 2, 2017
Surprise 40th Casino Birthday
Company/Occasion:
Surprise 40th Birthday
Hi, I just wanted to say a huge thank you and relay back all the great comments from our guests.Everyone had a brilliant time (including the kids who I hardly seen all night,you should advertise babysitting service included!! :D ) and Ive passed on your details. The tables and of course croupiers were a great hit and absolutely lovely to work with, really felt like I had friends helping me out :) so thanks again and I hope to have a chance to hire with you again.Kindest regards,Deborah Nulty
Jul 12, 2017
GAA Fundraiser
Company/Occasion:
Rathdowney/Errill GAA
"Brennan events recently came on board with Rathdowney/Errill GAA to run a Vegas themed night. To say the committee had very little to do only sell our tickets is an understatement, this company literally does everything for you, from printing your tickets to decorating your venue. This was our first time trying this fundraiser and it went down a treat with people. There was lots of entertainment on the night. We raised a lot  of money for the club and had fun doing so, I would highly recommend Noel and Nicola for any club to give this venture a go."
Jul 11, 2017
Christmas Party Nights
Service:
Christmas Casinos
Company/Occasion:
Midlands Hotel Portlaoise (Heritage Hotel)
'We were very happy with Brennan Events for our Casino Christmas Party Nights at The Portlaoise Heritage Hotel, it really added to the night, the guests had a ball and it looked amazing, dealing with Nicola as always was brilliant, nothing was too much trouble and we very much look forward to working with them again'
Apr 27, 2017
Birthday Bash
Thanks a million for a top class party night was best party ever professional and great fun from start to finish you guys are 5 stars service had the best party ever casino was class thanks guys!
Apr 27, 2017
Double 30th Casino!
Company/Occasion:
Birthday
Noel, Nicola and crew! Thank you from the bottom of our hearts for making the surprise party for our significant others such a huge success! Absolutely everyone at the party was blown away with the casino tables and all the staff! Noel has got special mention a few times for really involving everyone and making things such fun! It was a complete success, the boys were absolutely thrilled with everything, as were we! Highly highly highly recommended! Thank you again for helping us to make such fantastic memories, you are absolute professionals and the best there is out there I reckon! We're thanking our lucky stars we came across you on our search for ideas! Thank you again xxx
Apr 27, 2017
Company/Occasion:
Na Fianna GAA
I really appreciated your professionalism with regard setting the room up and having everything ready to go ahead of time. You literally made it so all we had to do was show up and enjoy the night. It was such a fun and entertaining night overall and thats largely due to yourself and your staff.Moving forward I will be recommending you for any team/club events and look forward to doing business with you again.
Apr 27, 2017
Sage Ireland Social Night
I would like to say a big thank you to Nicola and Noel from Brennan DJ's for organising our Casino night. They looked after the hotel, food, MC, tables, staff and even the decorations. They managed to get us a deal with the hotel on a drinks promotion so we could stretch out budget even further ….. they made sure everyone was having fun, nobody was left out and there was not a dry mouth in the place.We usually organise our own events as we have such a small budget but we were able to sit back and enjoy ourselves knowing our budget was well looked after. All we had to do was pay the bill (and it wasn't much considering what we got). We had a great night and I WILL use them again. Thank you!
Apr 27, 2017
Bank of Ireland Staff Christmas Casino
When we originally looked at Christmas party ideas we made contact with Brennan Events. It was the best move I made. They took complete control of our requirements and delivered only what I can describe as a first class offering. Staff members felt it was the best event that we hosted. From the get go the event took off and every staff member became involved in the casino. All the Brennan Events staff were extremely professional and engaged throughout the event. Our Host was excellent at his job and ensured that every staff member were fully involved and enjoyed the event. I would 100% recommend Brennan Events to anyone and We will certainly be calling on them again for our next event.
Apr 27, 2017
Pakman Awards Casino
"The casino ran by Nicola and her team was a real highlight on the night of our Pakman Awards which were held in the Intercontinental in Dublin on the 27th October 2016. I was really impressed by how professional the casino was ran. Everyone enjoyed it and it was real treat for all our guests on the night."