We are here to help you make your wedding day even more fun! Adding a Casino by Brennan Events will add some extra magic! We all know how expensive Weddings can be so instead of spending money on the "usual" candy carts and pianist or solo singer at your pre-reception just like everyone else…why not add something more fun, interactive, and different. In short we can enhance your day by: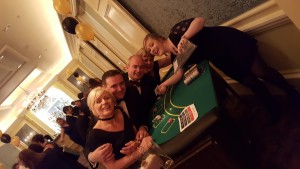 Giving your families and friends an opportunity to mingle and get to know each other casually
Making it different to the rest. It will be remembered because it was soooo much fun!
Getting rid of that lull that can some times happen after the ceremony and before the meal.
Keeping the fun going on Day 2!
FAQs for Wedding Casinos
When's the best time during the day to have it?
Casinos work best during the pre-reception (between the ceremony and the meal) or after the meal, before your music begins for the night. They are also great to have on the day after your Wedding, when you can really relax and get to have more fun!
If you opt to have it after the meal we can add the option of a Wedding DJ to follow. Then you know there is a seamless transition as well as knowing you have Noel to continue to  keep everyone entertained for the rest of the night, playing great music and keeping the dance floor full. Having a DJ means the music genre can be switched to suit the crowd during the night so everything from Jives/Waltz to party music to 80s & 90s hits, all the way to AC/DC or good old traditional Irish country can be played – its totally up to you! All boxes ticked.
What's Involved?
Lots of fun! Our MCs are fab with years of experience. Your MC and Hostess will greet everyone at the start of the Casino and explain the rules, the Hostess will give everyone their equivalent of €10,000 of fun money in Chips to play on any of the tables, as they can move between tables during the casino. During the evening the Hostess & MC will work the room ensuring everyone is enjoying themselves. We involve everyone and there will be games for the duration. Our Croupiers are very interactive and fun and will entertain the people at their tables. You will find your guests will be having so much fun they will probably stay at the table with their favourite croupier for most if not all of the casino because they are enjoying themselves so much!
We up the ante as we progress reminding everyone that there's a winners table to compete for. And even the people not actively playing at the tables will be having fun as your MC and Hostess will play games such as Human Craps and The Giant High Low Card Game with them.
Can I just hire the tables or do I have to have a full casino?
This is 100% your choice! A full Casino is tonnes of fun and having an MC really keeps it interactive with lots of games and laughter. However, if you want to add a bit of fun that your guests can dip in and out of then Table Hire works well here. With either option your room can be decorated to create a Casino atmosphere or can be peeled back to have a classic elegant feel. Contact Nicola to find out exactly what can be included in either option.
How can I make it even more special?
We can include Fun Money cheques which you can enclose in your invites for people to exchange for their chips on the day. Alternatively, if you hold the Casino after the meal these can be left on peoples' place settings – and can be used in place of favours!
If you want to jazz it up, we can also dress the room for you and include some 007 silhouettes & balloons or some draping for the walls and some giant size casino cutouts around the room. Some of our other options such as our Instabooth or Chocoboxes can add more of the wow factor!
Can I cater it to my needs?
Yes absolutely! Everything we do is absolutely catered to you…Your Occasion, Our Profession. Pop an email to Nicola or call on 056 4401755 to find out how you can do this.